Traditional List
The traditional list for this wedding anniversary has no symbol or material associated with it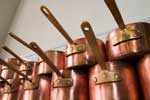 The Modern List has Copper as the fitting material to base a gift upon for the 22nd wedding anniversary.
The Gemstone List shows Spinel (all Colours) linked with the 22nd Wedding Anniversary.
Flower List
The flower list for this wedding anniversary has no symbol or material associated with it
22nd Anniversary Gift ideas based on all available lists
Inspiration
ItÆs not where you go or what you do, itÆs who you take along with you.

Anon.
Traditional List

The traditional list does not associate any materials with the 22nd anniversary

Modern List gift ideas

Copper is the modern list theme for this wedding anniversary

Gemstone List gift ideas

Spinel (all Colours) is the gemstone list theme for this wedding anniversary