Just before our 31st Wedding Anniversary our Carriage Clock that had sat on our mantle piece for many years went wrong. It started to gain about 75 minutes a day. This was a gift when we married so it had lasted a good time especially as it was a battery powered quartz clock. Compared to today's Clocks it was not a top notch item although not bargain bucket either. This was actually our second carriage clock, we got two for our wedding. The 1st Clock died a good few years earlier and this one got a promotion to the prime spot.
I was going to repair the clock by changing the innards for a new mechanism however as we knew that the 31st wedding anniversary has a theme of Timepieces we thought why not shop a solution.
Shopping for a Timepiece
We initially thought it would be a easy job of replacing the clock with a nice shiny new clock. With 31 years looking at the same clock I must admit I preferred a change to the Carriage Clock. Especially with my ageing eyesight I struggled, in certain light to see the dial well. We was also surprised at the poor choice of options available. There seemed to be either low quality plastic cased clocks or high value craftsman built timepieces. There didn't seem to be something in the middle, which was frustrating.
It was at this time (no pun intended) that Amazon came to the rescue in the shape of the Echo Spot. Their design LED smart speaker. It's primary use seemed to be as a beside clock/ smart speaker however with the addition of the stand it is transformed into a great clock that's suitable for any place in the home and especially on a mantelpiece.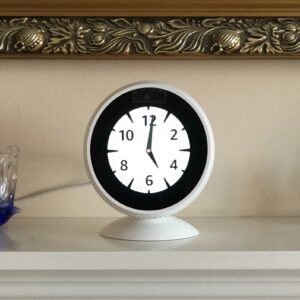 The Echo Spot has a selection of clock faces that you can easily select via its setting menu and it has the modern benefit of being a full-featured Alexa smart speaker, display portal and video calling portal. You can default the Echo Spot to your preferences very easily and set up was a breeze.
There are a number of wedding anniversaries that suggest a clock or timepiece as the gift theme. The Modern Wedding Anniversary list has the 1st anniversary with a theme of Clocks. The 31st with a theme of Timepieces. Other anniversaries also have a theme that enable a Clock to fit the theme such as a Desk Set, Furniture, Optical goods and Luxuries of any kind all could fit this great mid-range gift idea.
More on the Echo Spot
The Echo Spot brings you everything you love about Alexa, in an all-new stylish and compact design that can show you things. Just ask to see the weather, get the news with a video flash briefing, set a music alarm (Amazon Music, Spotify & TuneIn supported), see lyrics (available in UK only) with Amazon Music, see your calendar, browse and listen to Audible audiobooks, and more. Personalise your Spot with a collection of clock faces to suit your style or set a photo background from Prime Photos. Plus, make calls to friends and family between supported Echo devices or the Alexa App, or make video calls to anyone with an Echo Spot, Echo Show or the Alexa App.
Echo Spot features second-generation far-field technology with four microphones, beam-forming technology and enhanced noise cancellation, so it can hear you from across the room—even while music is playing. If you have more than one Echo, Alexa responds intelligently from the Echo you're closest to with ESP (Echo Spatial Perception).
This is our third Alexa device and so far (we've had is 3 weeks at the time of writing) it is by far the best of the bunch. It just seems to respond and understand voice commands better than the other devices.