Welcome to Anniversary Ideas specialists in suggesting wedding anniversary ideas and supplying anniversary gifts. From the 1st Wedding Anniversary through to the 100th anniversary year (yes there is a symbol for the 100th!) our pages supply details of the symbol or material theme for the year taken from the most often used wedding anniversary gifts lists.
Our Anniversaries by year page shows what material is traditionally associated with the anniversary year; from there or via the main menu above, you can select the year you are interested in to get anniversary ideas based upon the themes for the anniversary.
How you choose to celebrate may set the precedence to many happy years together, if your partner decides not to celebrate the anniversary how you like, now is probably the best time to discuss how you feel.
Wedding Anniversary Ideas Gift Lists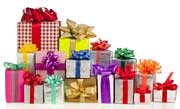 We've done a lot of the work for you as we continually search the internet to bring together some of the best and most unique anniversary gifts and ideas. Whilst we have all the top gift ideas you'll see on many sites we also have specific ideas that match either the symbol or material mentioned in the gift lists for the anniversary year you are searching for.
There are a number of Wedding Anniversary Gift Lists, as linked below, each gift list has a different material or theme for the wedding anniversary year.
We've also got a list of colours appropriate to the Wedding Anniversary year.
History of Anniversaries : Find out what we have discovered about the history of anniversaries and how they have evolved over time. The idea of give a gift to celebrate an anniversary can be traced back to at least the middle ages in Europe and even older in other civilisations.
Anniversary Etiquette
Answer the popular questions on what the right things to do on your wedding anniversary; how to celebrate, why celebrate, gift giving guide and many more commonly asked questions. Check out our Wedding Anniversary Etiquette Pages.
Wedding Anniversaries
If you are celebrating a year that is not in the traditional wedding anniversary gift list then the Anniversaries tab above gives themes and symbols for ever year up to the 50th and then every 5th up to the 100th plus some random ones!
We used to maintain a list for the longest married couples however we discovered Wikipedia had an excellent resource showing people with the longest marriages we now just link to them.
More Anniversary Ideas
We are always on the look out for great anniversary gifts and ideas, the idea does not have to be a present; it could just be a great experience or way of commemorating the event.If you have a unique or special anniversary idea that you would like to include here then please contact us and we will review you idea with a view to include in in our pages here.
Please note that not all suggestions make it onto our database, if we recommend a site then we test the site and if they were found to have an easy to use structure and do not use pop-up advertising or malware then we include it. You should however always make sure you are happy with the site yourself when you visit as well as their current terms and conditions as we don't actively monitor all sites mentioned.
If you have any problems navigating this site or have any comments that would improve your experience whilst visiting our site then please contact us using the 'contact us' link below. We always love to hear about your experience on our site.