The 17th year wedding anniversary does not have a traditional wedding anniversary material, symbol or flower associated with the celebration, as you can see below the other lists do have symbols to use or if you have been using the traditional list then effectively you have a free choice for a gift.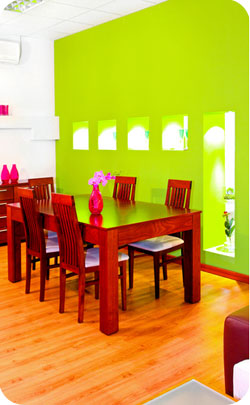 The Contemporary or Modern anniversary list states the gift theme for the 17th year wedding anniversary is Furniture. After 17 years of marriage it may be appropriate to look at some of your furniture to see if it needs updating or restoration as the theme is furniture it does not necessary mean new items and thus updating tired looking items may be a great way to approach this theme.Some items however may need renewal, do you still have your original mattress from the year you wed, if so it may be worth considering an update especially with the introduction of memory foam mattresses over the past decade which provide far more comfort (or perhaps not if you have trouble getting up!) Apparently, the average life span of a mattress is 7-15 years although this is very dependent upon the quality of item.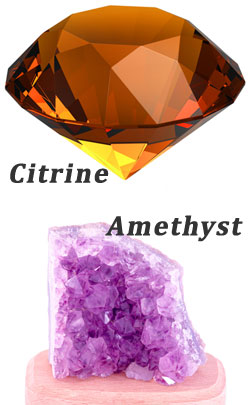 The Gemstone Anniversary List shows Citrine as the gemstone associated with the 17th year wedding anniversary. Other references we have seen also mention Amethyst as the appropriate Gemstone for this year.
Lots of folklore and traditions surround gemstones, Citrine is believed by some to diminish self-destructive tendencies by raising self-esteem and provide good for overall emotional well-being and helps strengthen the immune system. Citrine is classed as a stone of abundance and is often placed in the money corner of a feng-shui'd house. Amethyst is a form of quartz with a beautiful purple or violet hue, this gemstone takes its name from a Greek word that to its supposed powers of counteracting the effects of wine fumes when worn. It was believed to have a calming or soothing effect and when brought near poisoned food it was said to lose its brightness. It is used in crystal therapy as a very powerful aid to creative thinking, spiritual awareness and healing. Amethyst is said to soothe and clam the mind, raise the spirit and protect against negative vibrations.
Amethyst is the birthstone for the zodiac sign of Aquarius as well as the jewel associated with St Valentine. Apparently it is best worn on a Thursday and luckiest for blondes or those with fair complexion.
Should the gemstone for this year not be a popular choice there is also the appropriate gemstone for the month you married in.
17th year wedding anniversary facts and figures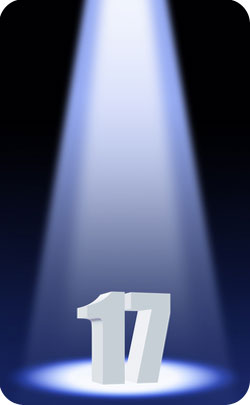 This year (2022) to be celebrating your 17th Anniversary you would have married in 2005.
On the anniversary of your wedding you would have been married for about
6,205 days (this is dependent upon when leap years have occurred) or
148,920 hours or
8,935,200 minutes which is
over ½ billion seconds. (536,112,000 seconds approx.)
During this time you would have shared, on average, over 46,538 hours of snuggle time (sleeping!) or 1,939 days which equates to about 5 years 4 months in bed!
Assuming you don't work together you've been apart for over 35,945 hours (1,498 days) or approximately 4 continuous years.
During this time you would have shared over 13,500 meals together which equates to approximately 7,884 hours of continuous eating!
17th Year Wedding anniversary Gift Ideas
Please see out 17th Anniversary Gifts page for our full range of gift ideas. Last year's details are available here: 16th Anniversary Ideas for next year's details see here: 18th Anniversary Ideas