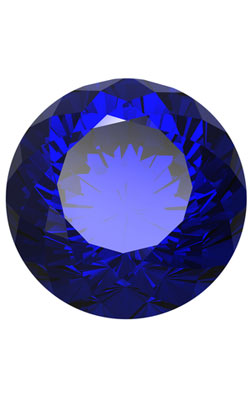 Congratulations on your 45th year wedding anniversary. This is one of the biggest milestones you can achieve and you're only another five years from your half century together. Before you start thinking about what 45th year wedding anniversary gifts you could buy take a look around our website for some anniversary gifts and ideas. As you'll be well-aware, there are certain themes, symbols and items associated with certain wedding anniversaries and the 45th is no different.
Across the board with all the anniversary lists, the main theme of the 45th year wedding anniversary is Sapphire. That azure blue gemstone is not only the gem of choice but it is the modern and the traditional theme suggested for the 45th wedding anniversary. Therefore, when it comes to buying a 45th year wedding anniversary gift the stunning blue jewel should be looked at.
As you know there are many different ways you could incorporate the sapphire into your gift buying and none are more so impressive than a large ring. Your 45th wedding anniversary is so special as it marks the occasion that you brought your two lives together all of those years ago and by splashing out and buying a piece of jewellery with a Sapphire in it will make it all the more special. You could find earrings, bracelets, a brooch or even an anklet with a sapphire in it and you just know that your wife will absolutely adore it.
There aren't just blue sapphires either, some traces of other elements can affect the colour and there have been many sapphires that are green, orange, purple, pink and even yellow. So, if you're in the running to buy a sapphire but your spouse doesn't like blue then fear not as there are many other colours. The other gemstone that is sometimes associated with the 45th wedding anniversary is Alexandrite which is just as beautiful as sapphire but most people prefer the rarer jewel to give as a gift.
As the flower anniversary list does not associate any flowers with the 45th year wedding anniversary, that choice is left up to you but remember, no wedding anniversary present would be complete without a stunning bouquet of flowers. Depending on the time of year means that certain flowers will be available and if your wife loves daffodils then the spring time could well mean that your wedding anniversary flowers could be those stark yellow ones.
Whatever you decide to buy for your 45th wedding anniversary gift, make sure it has the sapphire theme running through it and make the most of this landmark occasion. Your love for each other would have grown so much over the years and before long you will be able to say that you have been married for 50 years!
The 45th year wedding anniversary Facts and Figures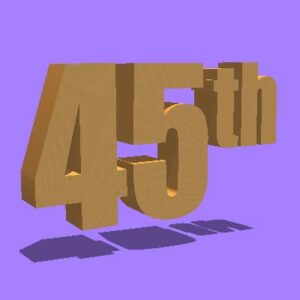 This year, to be celebrating your 45th Anniversary, you would have wed in 1977.
On the 45th anniversary of your marriage you would have been married for:
16,425 days, which is
394,200 hours, which is
23,652,000 minutes, which is
Over 1,419 million seconds!
During this time you would have shared, on average, over 123,100 hours of snuggle time (sleeping!) or about 14 years, 1 months; assuming you don't work together you've been apart for over 95,148 hours which is about 10 years, 10 months. You would have by now shared about 35,800 meals together which equates to approximately 2 years, 5 months of continuous eating!
45th Year Wedding Anniversary Gift Ideas
Please see out 45th Anniversary Gifts page for our full range of gift ideas some are below;
Please see out 45th Anniversary Gifts page for our full range of gift ideas. Last year's details are available here: 44th Anniversary Ideas for next year's details see here: 46th Anniversary Ideas