What is a 45th wedding anniversary?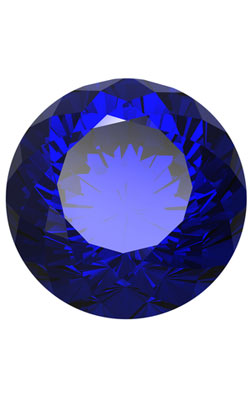 Congratulations on your 45th wedding anniversary. This event, 45 years from the day you wed your partner should be celebrated with gifts exchanged to commemorate the achievement. This is one of the bigger milestones you can achieve in marriage. You are only another five years from your half-century together!
Before you start thinking about what 45th wedding anniversary gifts you could buy. Have a read of this page and look around our website for some anniversary gift ideas.
As you'll be aware, certain themes, symbols, and items are associated with wedding anniversaries. The 45th year of marriage is no different.
What is the symbol for a 45th Wedding Anniversary?
Both the Traditional and Modern Anniversary Gift lists show the main symbol or theme of the 45th anniversary is sapphire. The gemstone list diverges slightly and shows Alexandrite as the gemstone gift theme.
Because of the traditional symbol used for this anniversary, the event is referred to as the Sapphire Wedding Anniversary. Or simply the Sapphire Anniversary.
Sapphire as Gifts
With many ways to incorporate sapphire into your gift buying, none are more so impressive than a large sapphire ring.
Your 45th wedding anniversary is so special as it marks the occasion that you brought your two lives together all those years ago. Splashing out and buying a piece of jewellery with a sapphire in it will make it all the more special.
You'll find earrings, bracelets, a necklace, or even an anklet with a sapphire in it and you just know that your wife will adore your choice.
There isn't just blue sapphire either, some traces of other elements can affect the colour thus sapphire is available in green, orange, purple, pink, and even yellow. So, if you're in the running to buy an anniversary gift but your spouse doesn't like blue then fear not as there are other colours.
Does the 45th Wedding Anniversary have an appropriate Flower?
There aren't any flowers associated with the 45th wedding anniversary. Thus the choice is left up to you but remember; no wedding anniversary present would be complete without a stunning bouquet.
Depending on the time of year means that certain flowers could be available. If your wife loves daffodils then the springtime could well mean that your wedding anniversary flowers could be those bright yellow ones.
What's a perfect 45th-anniversary gift for my wife.
A perfect 45th-anniversary gift for your wife could be something that she's been hinting at for a while. Or even better something you know she wants.
If she's been dropping hints about wanting a new piece of jewellery, then take the plunge. Buy her a dazzling sapphire wedding anniversary ring.
It doesn't matter if you don't have nearly enough money to buy her the ring she wants, after 45 years of marriage it is all about splashing out and showing her how much you love her.
If you don't want to spend a lot of money on a 45th-anniversary gift, then get creative and find a way to include the sapphire in another thoughtful gift.
45th Wedding Anniversary Gifts
Whatever 45th anniversary gifts you decide to buy, make sure it has the sapphire theme running through it and make the most of this landmark occasion.
Your love for each other would have grown so much over 45 years and before long you will be able to say that you have been married for 50 years!
Sapphire Wedding Anniversary Gift Ideas
Below are some traditional 45th wedding anniversary gift ideas that are great to gift to family members or your spouse as a commemorative gift to mark 45 years since their wedding date.
Sapphire Jewellery Gifts
Nowadays there are several types of sapphire available to purchase. This is great for anyone searching for sapphires as it enables you to choose a 45th-anniversary gift within your budget.
The most expensive sapphires available are natural ones, mined, and then cut into jewels for mounting in rings, bracelets, or pendants. They are also the most desirable due to their scarcity. Having said that you can get a natural sapphire blue stone for as little as $30.
If you want to get a greater variety of jewellery, then Lab created or simulated sapphire is available to match your needs. They are created and cut in far wider designs and often matched with gold, diamond, and silver jewellery to produce elegant and modern statement pieces.
Sapphire Anniversary Card
Don't forget along with your 45th wedding anniversary gift you'll also need an anniversary card!
What do I get my husband for our 45th wedding anniversary?
While the traditional gift for a 45th wedding anniversary is sapphire, you could get your husband anything that he would appreciate. If he is a fan of jewellery, then consider getting him a sapphire ring or cufflinks. For a more modern gift, you could get him a piece of art with sapphire in it?
What do you get your parents for the 45th wedding anniversary?
There is no "one size fits all" answer to this question, as the perfect gift for your parents' 45th wedding anniversary will depend on their individual interests and preferences. However, some thoughtful and unique gift ideas that could be suitable include:
A personalised photo album or scrapbook filled with memories from throughout their marriage.
A gift certificate for a romantic weekend getaway.
Tickets to a special anniversary concert or show.
A unique piece of jewellery featuring a sapphire.
A custom-made book about their life together, including photos and anecdotes.
Home décor items such as a new rug
The 45th wedding anniversary Facts and Figures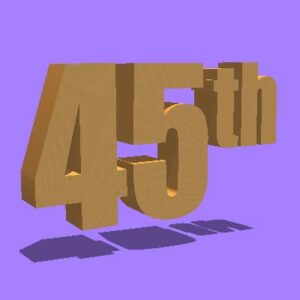 This year (2022) to be celebrating your forty-fifth anniversary, you would have wed in 1977.
On the 45th anniversary of your marriage you would have been married for:
16,425 days, which is
394,200 hours, which is
23,652,000 minutes, which is
Over 1,419 million seconds!
During this time you would have shared, on average, over 123,100 hours of snuggle time (sleeping!) or about 14 years, 1 months; assuming you don't work together you've been apart for over 95,148 hours which is about 10 years, 10 months. You would have by now shared about 35,800 meals together which equates to approximately 2 years, 5 months of continuous eating!
Things to do for a 45th wedding anniversary
So, what to do for the 45th anniversary? There are many things you can do to celebrate your anniversary. Activities or events help make a special and memorable celebration that you'll cherish for years to come. Here are just a few ideas including free or low cost ones:
Organise a special dinner party or picnic and invite all of your close friends and family
Write love letters to each other, expressing your love and gratitude for one another
Be nostalgic, recalling all of the special moments from your time together
Play games or watch movies that are special to you as a couple
Attend a couples' massage or dance lessons together
Get creative and make something unique and personal for each other as a symbol of your love
Where to go for your 45th wedding anniversary
If you're looking for a special place to celebrate your 45 years of marriage, why not consider one of these romantic destinations?
Paris, France
Bali, Indonesia
The Bahamas
Venice, Italy
Hawaii
Closer to home and perhaps, some would say, not so romantic, here are some UK destinations
Try our selection of short breaks
Bombay Sapphire Distillery
Outer Hebrides, Sapphire was discovered there in the 1980's
Tower of London, to view the Stuart Sapphire. Part of the Crown Jewels
What gem stone is for 45 years of marriage?
The gemstone anniversary gift list mentions alexandrite as a gift for a 45th wedding anniversary. Alexandrite is just as beautiful as sapphire and has some incredible qualities.
Alexandrite has been known for its remarkable colour change from green in sunlight and red under incandescent light sources. However, it is so rare that only a few people have seen this natural stone up close or even nearby itself without being surrounded by other stones to distract your attention away from what you are viewing at any given time. More details are available from wikipedia
What Colours is Sapphire available in?
Sapphires can come in all colours of the rainbow except for Red, however, some are far rarer than the others. They are most often found in Blue, yellow, green, black, and purple colours.
Sapphire is always thought to be blue however as science progressed it was discovered that other colours exist.
Sapphire comes from the same family of stones that Rubies do (Corundum), so any stone except red ones from this family of stones are deemed, Sapphire. The red ones are deemed rubies. You can get pink rubies however these would have tested red using a spectral thingamabob. This, however, is a disputed point between specialists.
Why Blue Sapphire?
The sapphire-blue is the traditional gift for a 45th anniversary, as it symbolises faithfulness, love, purity, and durability. Sapphire is also said to represent wisdom, and its deep blue colour is associated with royalty. If you are looking for a unique and special gift for your spouse as a 45th-anniversary gift, consider a piece of jewellery with a blue sapphire.
Sapphire Gemstone Lore and Superstition
There is plenty of lore surrounding this stone. The Sapphire is said to help one focus by calming the mind and releasing unwanted thoughts. The wearer of this genius stone will experience inner peace, serenity, and comprehension skills improvement among other valuable benefits!
How to incorporate the Sapphire theme into your anniversary celebrations
If you want to incorporate the sapphire theme into your anniversary celebrations, there are many ways to do so. Here are just a few ideas:
Use sapphire blue as the anniversary theme colour for your party or dinner table.
Decorate with blue flowers or balloons.
Serve blueberry pie or cake for dessert.
Make a Sapphire blue cocktail. (Midnight Kiss or Blue Margarita are good options)
Final Thoughts on the Sapphire Anniversary
Sapphire is an amazing gemstone with a long history and plenty of lore surrounding it. If you are looking for something unique and special to celebrate your 45th anniversary, consider a sapphire-themed gift or event. Wishing you all the best on this special milestone!
Please see out 45th Anniversary Gifts page for our full range of gift ideas. Last year's details are available here: 44th Anniversary Ideas for next year's details see here: 46th Anniversary Ideas