Please see out 50th Anniversary Gifts page for our full range of gift ideas.
Congratulations on reaching the 50th year wedding anniversary or knowing someone achieving this milestone, it's really something to celebrate. Spending half a century married is very, very special and you should both make the most of this momentous day. Buy each other some wonderful wedding anniversary gifts to commemorate the event. As with most of the wedding anniversary celebrations there are certain symbols, items, flowers and themes that symbolise the celebration. Furthermore as the 50th wedding anniversary is so important, the theme of Gold is certainly fitting.
Traditional 50th Wedding Anniversary Theme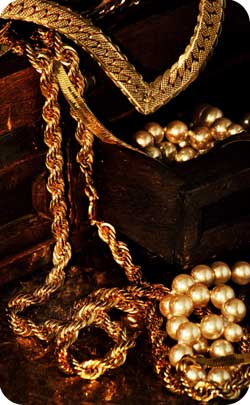 Your Golden Wedding, to give it the traditional name used, is gold for both the traditional and modern gift theme lists. Given gold has such a stunning look and can be used in many ways you shouldn't have any difficulty finding the perfect 50th wedding anniversary gift for your spouse.
Whatever you buy as a 50th wedding anniversary gift you can be assured that your spouse will adore it. Moreover as we have a great range of wedding ideas and gifts to buy through our website you won't have to spend too much time thinking about it. You might not opt for jewellery, as your spouse might collect coins and a gold coin for your 50th year together as a couple would be perfect. There are literally thousands of ideas for wedding anniversary gifts that you could choose from.
Modern 50th Wedding Anniversary Theme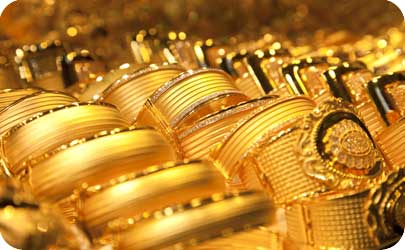 Although the traditional theme for your 50th year as a married couple is gold the modern day equivalent has a slight variation and suggests gold jewellery and what better way to impress your loved one with some stunning earrings, a ring, or even matching watches for each other.
As is is such a major milestone the gemstone list offers no alternative. Thus you can have a theme of gold throughout. As you can eat gold leaf, you could have a nice meal with gold leaf making an appearance or you could simply be content with some beautiful gold jewellery.
50th Wedding Anniversary Flower Theme
As with other wedding anniversaries, there are flowers connected to the 50th year wedding anniversary. The flowers for the 50th wedding anniversary gift are violets, which are often given as plants. Although with their stunning colours and unique look, you can really impress your partner with a lovely array of violets.
As this date is so important to you both as it marks such a special occasion in your life and also celebrates so many years together you should really push the boat out and splash out on some fantastic golden gifts. Choose from our wonderful selection of products on our website and make the most of your special date together.
The 50th Year Wedding Anniversary Facts and Figures
This year, to be celebrating your 50th Anniversary, you would have wed in 1972.
Traditional Gift Theme: Gold
Modern Gift Theme: Gold
Gemstone Gift Theme: Gold
Appropriate Flower Theme: Violets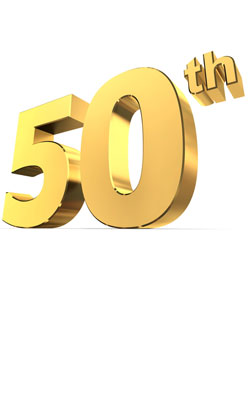 On the 50th anniversary of your marriage you would have been
Married for 18,250 days or
438,000 hours or
26,280,000 minutes
which is over 1,576 million seconds!
During this time you would have
shared, on average, over 136,800 hours of snuggle time (sleeping!) or about 15 years, 8 months;
assuming you don't work together
you've been apart for over 105,720 hours which is about 12 years, 1 month.
You would have by now
shared about 39,800 meals together which
equates to approximately 2 years, 8 months of continuous eating!
Research by a Think-Tank that promotes Marriages in the UK, the Marriage Foundation, has produced research that shows that couples who reach their Golden Wedding are 150 times less likely to get divorced than a newly married couple, which if you are celebrating your 50th Anniversary is great news [Ed. or is it pretty obvious!]
50th Year Wedding Anniversary Gift Ideas
Please see out 50th Anniversary Gifts page for our full range of gift ideas some are below;
Please see out 50th Anniversary Gifts page for our full range of gift ideas. Last year's details are available here: 49th Anniversary Ideas 
For further inspiration please check our blog post: Golden wedding Anniversary