There is no one-size-fits-all when it comes to wedding anniversary gifts, but if you're looking for traditional gift ideas, the traditional wedding anniversary gifts list can be a great starting point.
Traditionally, anniversary gifts are associated with each year of marriage, and each year has its own special theme or material. So if you're stuck for ideas, the traditional list can give you some great ideas for what to get your spouse.
What are the traditional wedding anniversary gifts by year?
Here's a quick rundown of traditional wedding anniversary gifts by year:
Traditional Wedding Anniversary Gift List
Of course, you don't have to stick to the traditional gift list, but it can be a great way to get some ideas if you're feeling stuck. And if you want to go traditional, there are lots of ways to put your spin on it.
Traditional wedding anniversary gifts list come from a list of materials or themes that are associated with every year of marriage. Each year may have different themes or materials associated with it. Here we are just referring to the Traditional Anniversary List. Other popular lists include the Modern, Gemstone or Flower lists. The idea is so that you can select a gift with a theme or the material mentioned for the year thus aiding you to select an appropriate gift.
The Traditional Gift List by Year
The traditional anniversary list has developed over the generations into the one shown above. For some of the years, we have variations in the theme depending upon who has published the list. If you want more history of how the anniversary list evolved see our Traditional Wedding List History page.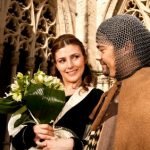 In Short, it is called the traditional list because it is the oldest gift list in existence. There is evidence that before the modern anniversary list being produced the list was known just as the wedding anniversary gift list.
If you select the anniversary year you are interested in, in the table above you'll be taken to a further page with full details on the anniversary. What's more, if you select the material/theme link we'll give you ideas for gifts relevant to that theme.
Furthermore not every Wedding anniversary has a traditional theme. There are a lot of years have no material or theme. Below the 50th these anniversaries will have a theme in the Modern Anniversary List. Above the 50th they have no theme or material unless they end in 5 or 0.
Traditional Wedding Anniversary Material List
Gift List Variations
We've listed the most popular theme/material first in the list above. If there are other themes or materials it's because we have found references to these in different publications. Certainly there is no one definitive list.
In addition, there are a few variations with the traditional anniversary gifts list above which we've not included. For instance, the largest one being that for the first wedding anniversary. Traditionally, in the United Kingdom and Europe, the 1st anniversary used to be Cotton with the second year being Paper themed. This has now been reversed to follow the American traditional theme of Paper for the 1st year and Cotton for the 2nd year. Maybe, we think, the reason behind this is down to the world becoming a smaller place with the use of modern technologies.
In the same fashion there are other variations on the traditional theme and again these tend to be local traditions. For example in Germany there is also a tradition to celebrate the Copper Anniversary which is 12 and a half years or half way through a Jubilee (which is 25 years.) Equally there is also a Vinyl Anniversary for when you have been married 33⅓ years. If you've not guessed already this is based upon the old gramophone records which played at 33⅓ revolutions per minute (rpm.)
Important traditional wedding anniversaries
All the important and major anniversaries originate from this list. Indeed the 25th anniversary and 50th anniversary are the oldest known anniversaries being celebrated with symbols. With the 25th being called the Silver Wedding and the 50th called the Golden Wedding. These can be traced back into early European history.
What are the wedding anniversaries in order?
This question may seem silly but there is a reasonable explanation behind it. With each wedding anniversary having a theme associated with it you simply use the gift theme or symbol of the relevant year as the name and thus order it based on the year of marriage.
So the order would go Paper Wedding (1st), Cotton Wedding (2nd), Leather Wedding (3rd), Fruit & Flower Wedding (4th), Wood Wedding(5th), etc.
Why is the 1st anniversary called a Paper Wedding?
This originated from the early themes given to the traditional wedding anniversary. These are Silver and Gold. They were translated literally from where they were first seen in Germany as Silver Wedding and Golden Wedding. From this, the other wedding anniversaries picked up the moniker 'wedding' for all the themes associated with the specific year. Please see our wedding anniversary history page for greater details.
What are the anniversary year themes?
The themes used for the wedding anniversary are the gift symbols noted, as above, for each year. For example, the first anniversary theme is paper; the second is cotton; the third is leather; and so on.
What are the milestone wedding anniversaries?
There are a few traditional milestone anniversaries that are celebrated with special gifts. The most popular ones are:
1st anniversary: paper
5th anniversary: wood
10th anniversary: tin or aluminium
20th anniversary: china
25th anniversary: silver
30th anniversary: pearl
40th anniversary: ruby
50th anniversary: gold
These traditional milestone anniversaries are celebrated with special gifts because they mark significant years in a marriage. Paper represents the blank slate of a new beginning, while wood symbolizes the strength and stability of a long-lasting relationship. Tin or Aluminium represents the durability of a 10-year marriage, while china symbolizes the beauty and elegance of a 20-year marriage.
What are some creative ways to gift traditional anniversary gifts?
There are lots of ways to get creative with traditional anniversary gifts. If you're not sure where to start, here are some ideas:
1st anniversary: paper – You could give a custom-made journal, a scrapbook of your favourite memories together, or even tickets to a show or concert.
2nd anniversary: cotton – You could give a cosy cotton blanket, a basket of spa-quality cotton towels, or a set of custom-made pillowcases.
3rd anniversary: leather – You could give a custom-made leather journal, a luxurious leather wallet or purse, or a stylish leather belt.
4th anniversary: fruit or flowers – You could give a basket of fresh fruit, a bouquet of seasonal flowers, or a potted plant that will bloom year after year.
5th anniversary: wood – You could give a custom-made cutting board, a handcrafted wooden jewellery box, or a set of beautiful hardwood coasters.
6th anniversary: sugar – You could give a box of gourmet chocolates, a bottle of premium champagne, or a basket of baked goods.
7th anniversary: wool or copper – You could give a handwoven scarf, a copper mug or vase, or a set of copper cookware.
8th anniversary: bronze or pottery – You could give a Bronze statue, a handcrafted pottery vase, or a set of stoneware dishes.
9th anniversary: willow or tin – You could give a basket made of willow, a tin lunch box, or a set of tin Keepsakes.
10th anniversary: aluminium or diamond – You could give a custom-made aluminium frame, a pair of diamond earrings, or a diamond pendant necklace.
11th anniversary: steel – You could give a custom-made steel sign, a stainless steel watch, or a set of steak knives.
12th anniversary: silk or linen – You could give a custom-made silk tie, a linen tablecloth, or a set of monogrammed handkerchiefs.
13th anniversary: lace – You could give a custom-made lace doily, a table runner made of lace, or a set of elegant lace coasters.
14th anniversary: ivory – You could give a set of ivory cufflinks, a carved ivory figurine, or a set of ivory notecards.
15th anniversary: crystal – You could give a leaded crystal vase, a Swarovski crystal necklace, or a set of Waterford crystal stemware.
20th anniversary: china – You could give a set of Wedgewood china, a Lenox vase, or a Waterford crystal bowl.
25th anniversary: silver – You could give a sterling silver necklace, a sterling silver bracelet, or a set of sterling silver earrings.
30th anniversary: pearl – You could give a strand of freshwater pearls, a set of cultured pearls, or a pair of pearl earrings.
35th anniversary: coral– You could give a coral necklace, a coral bracelet, or a set of coral flower earrings.
40th anniversary: ruby – You could give a strand of ruby beads, a ruby ring, or a set of ruby earrings.
45th anniversary: sapphire – You could give a strand of sapphire beads, a sapphire ring, or a set of sapphire earrings.
50th anniversary: gold – You could give a gold necklace, a gold bracelet, or a set of gold cufflinks.
How do you calculate how long you have been married?
To calculate how long you have been married do the following:
Count how many years since your wedding day,
Add the number of months, weeks and days since your anniversary this year,
if your wedding anniversary has not yet occurred this year, subtract the months, weeks and days till your anniversary.
or go to our how long have I been married page and enter your wedding date!
About Anniversaryideas.
We are a UK based company specialising in wedding anniversary gifts by year for the UK market. We offer free UK shipping and prompt daily dispatch. If you are from America, please see our sister site Anniversaryideas.com where we provide gift ideas deliverable domestically across the USA.