Themes for traditional wedding anniversary gifts come from a list of materials that are associated with each specific year. The different years, the majority of the time, have different themes or materials associated with that year along with different lists, here we are talking about the Traditional Anniversary List, other popular lists include the the Modern, Gemstone or Flower lists. The general idea behind this is so that you can select a gift with the theme of the material mentioned for the year thus making it easier to select an appropriate gift.
The Traditional Wedding Anniversary Gifts List
The traditional wedding anniversary list has developed over the generations into the one shown below, some of the years have variations on the theme depending upon who has published the list. More history of how the wedding list evolved is available on our Traditional Wedding List History page.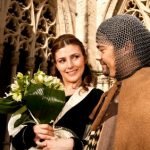 The reason it is called the traditional list is simply because it is the oldest wedding anniversary gifts list in existence, there is evidence that prior to the modern anniversary list being produced the list was known as the Wedding Anniversary List.
Below in the list the anniversary year will link you to pages with ideas available from all the Gift lists (e.g. Traditional, Modern, Gemstone and Flower) or choose the traditional material for the year you are celebrating, or buying for, for a list of wedding anniversary gifts specific to that traditional material and year.
Some years have no material or theme under the traditional anniversary list, below the fiftieth these anniversaries will have a theme in the Modern Anniversary List. Above the 50th they have no theme or material.
Traditional Wedding Anniversary Material List
There are a few variations with the traditional wedding anniversary gifts list shown above possibly the largest one being that for the first wedding anniversary as, in the United Kingdom and Europe, the 1st anniversary traditionally used to be Cotton with the second year being Paper themed. This has however been reversed now to follow the american traditional theme of Paper for the 1st year anniversary and Cotton for the 2nd year. The reason behind this is attributed to globalisation and the internet making data more accessible.
There are other variations on the traditional theme and again these tend to be local (read Country) based, for example in Germany there is also a tradition to celebrate  the Copper Anniversary which is 12 and a half years or half way through a Jubilee (which is 25 years)
All Important traditional wedding anniversary gifts
The traditional wedding anniversary gifts list is where all the important and major anniversaries come from and indeed the 25th anniversary and 50th anniversary are the oldest known anniversaries being celebrated as having symbols with the forma being the Silver Wedding and the latter Golden Wedding these can be traced back into early European history.