The Silver Wedding, to give the 25th year wedding anniversary it's formal title, is the first anniversary where the various anniversary lists converge. All anniversary lists call this the Silver Wedding. Except for the appropriate flower list. Which states Iris as the appropriate flower for 25 years of marriage.
What's more this year is one of the very original wedding anniversary celebrations that form the traditional anniversary gift list. It's provenance we have traced back to its original roots in Austria/Prussia. It was called the "Silberne Hochzeit" which is German for Silver Wedding. The celebration is now popular having spread throughout Europe by Royal Families acknowledging the event and celebrating it.
It's a Jubilee
Are you wondering why the 25th wedding anniversary is the first major milestone? Well this is as in ancient history 25 years is a jubilee. These happen in 25 year periods, so 25,50 and 75 years. In ancient times at a time of jubilee, loans were annulled and slaves set free to mark the event.
The 25th year wedding anniversary is the first of the major milestone anniversaries. After all, living in harmony for a quarter of a century is a major achievement.
How to commemorate your Silver Wedding
So what is the best way to commemorate or celebrate 25 years of marriage? There certainly is no prescribe method and there are many options;
Renew your Vows. This may simply be a small ceremony in the church of your choosing or perhaps it may be a flow blown re-enactment of your marriage ceremony. Often as when you married 25 years previous, you did not have the funds to do your wedding justice this is the time to improve on the original.
Have a Party. Silver Wedding parties are frequent and popular, it is tradition to put no gifts on the invitation. Furthermore it is also tradition for people to ignore this so expect gifts!
Have a Holiday, a Second Honeymoon if you like. Cruises are a very popular choice for celebrating your 25th year Wedding Anniversary
Commemorate it with something in Silver. Often with the couple's children atwage earning age they may club together to commemorate the event with a signature piece of giftware in silver.

A common gift is a Silver Tea or coffee set. Nowadays there are so many great gift ideas available in silver you may be spoilt for choice.
The Gemstone wedding anniversary list shows Sterling Silver associated with this Anniversary. Sterling Silver is silver that has been checked by authorities to ensure it is Silver. Normally an assay mark is present. This denotes it's quality by the amount of silver in the item. Sterling silver has at least 925 parts per 1000 parts of silver content.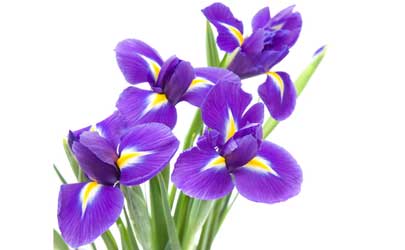 The Flowers Wedding anniversary list associates the Iris as the appropriate flower. From the language of flowers the purple Iris declares Ardour e.g. "You have set my heart a-glow".
25th year wedding anniversary facts and figures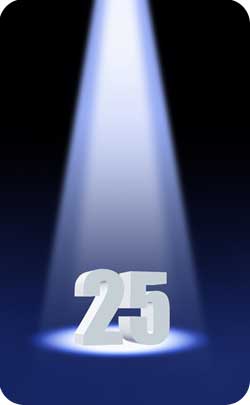 On the anniversary of your marriage you would have been married for
9,125 days or
219,000 hours or
13,140,000 minutes
over 788 million seconds
During this time you will have shared, on average, over 68,000 hours of snuggle time (sleeping!) Almost 8 years. Assuming you don't work together you've been apart for over 52,000 hours. This is about 6 years. You will have had over 19,000 meals together. This equates to approximately 470 days of continuous eating!
The above figures are an estimate, if you want to be more accurate then our marriage calculator takes into account leap years.
25th Year Wedding Anniversary Gift Ideas
Please see out 25th Anniversary Gifts page for our full range of gift ideas some are below;
Please see out 25th Anniversary Gifts page for our full range of gift ideas. Last year's details are available here: 24th Anniversary Ideas for next year's details see here: 26th Anniversary Ideas