Please see out 2nd Anniversary Gifts page for our full range of gift ideas. You can discover last year's anniversary details here: 1st Anniversary Ideas and next year's details are here: 3rd Anniversary Ideas
Traditional Second Wedding Anniversary List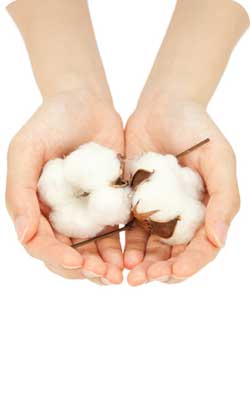 The Traditional Wedding Anniversary list shows Cotton and Straw are the 2nd year anniversary symbol.
Why two symbols? Well there are a number of lists that claim to be the 'official' traditional wedding anniversary list and they vary slightly; this year there are 2 materials present on different lists.
Cotton is by far the most popular choice for this anniversary as the traditional material. Given cotton's versatility the choice of a gift is wide and dependant upon your budget you will be sure to find a gift that will suit your pocket.
Modern Second Wedding Anniversary List
If the traditional list is not for you then you can use the modern alternative list. A Contemporary or Modern Second year anniversary gift has a theme of china.
Although the image is of china plates the theme need not be limited to the material, it is a theme after all. For example this could incorporate a trip to China or simply a cosy night in with a Chinese takeaway!
Gemstone Second Wedding Anniversary List
The Gemstone list offer Rose Quartz or Garnet as the gems associated with this Anniversary. Lots of folklore and traditions surround gemstones. Rose Quartz conveys as the stone of unconditional love and infinite peace.
Flower Second Wedding Anniversary List
The Flowers associated with the 2 year anniversary are Cosmos. The language of flowers has no mention of Cosmos although its family (Aster) refers as 'Afterthought' e.g. "I regret my impetuousness; do not take me too seriously."
2 year Anniversary Facts and Figures
On the day of your anniversary you will be wed for
730 days or
17,520 hours or
1,051,200 minutes or
over 63 million seconds!
You achieved being married for over 1 million minutes in your 2nd year of marriage. You achieved this 1 year, 10 months and 29 days after you wed.
On average during this time you would have shared over 5,000 hours of snuggle time (sleeping!) which is 228 continuous days. Assuming you don't work together you've been apart for over 4,200 hours (176 days) and have had over 1,500 meals together which equates to approximately 1,000 hours of continuous eating!