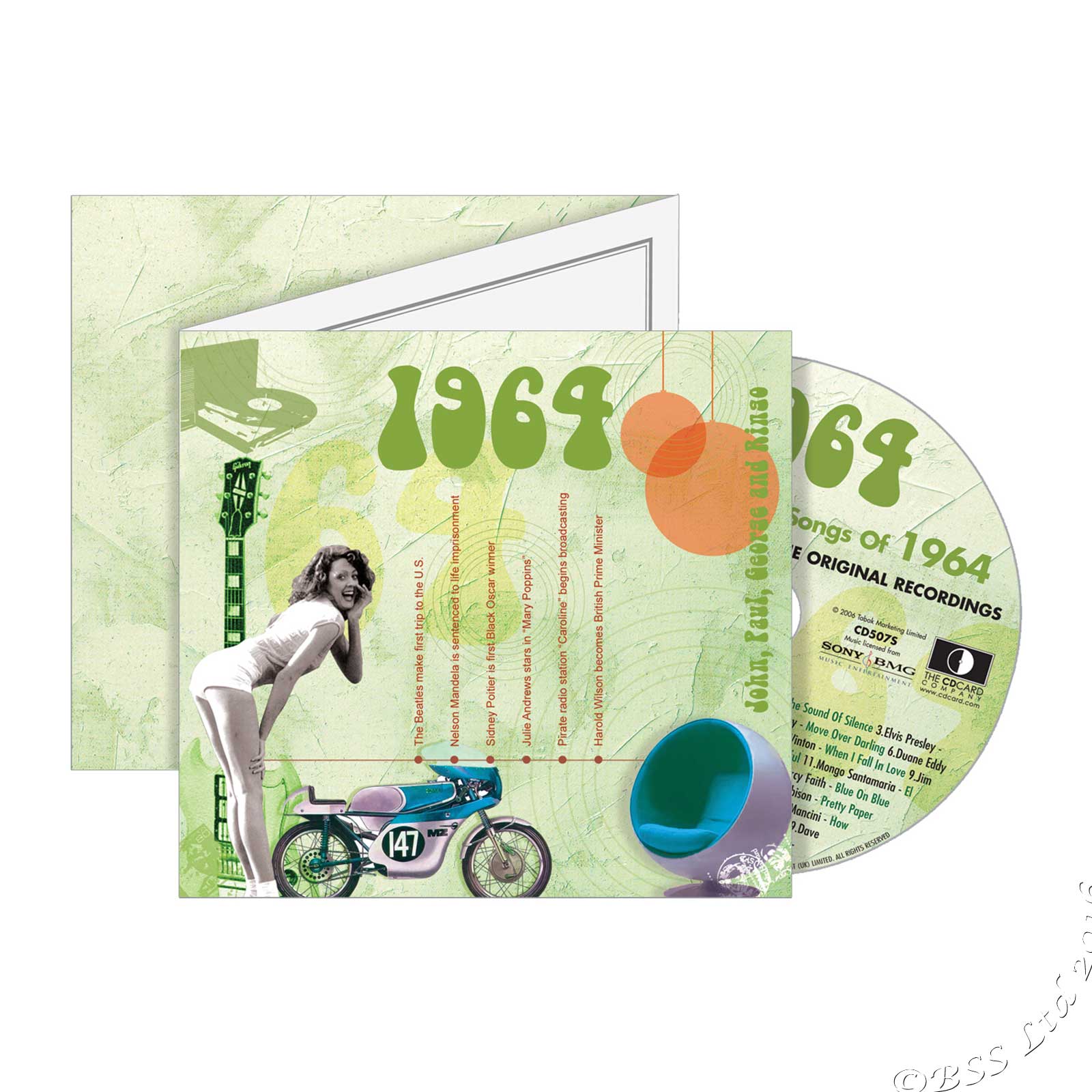 The power of music to evoke memories is such wonderful way of moving people and together we can help with the right music to celebrate 55 years of marriage in 2019.
Get our CD gift card for 1964 which has a CD  inside with a multitude of top hits from the year they were married with many love songs that will bring the memories of yester-year flooding back.
The complete playlist is as follows with a brief synopsis as well to help you.
1. Roy Orbison – Oh, Pretty Woman. Reached No. 1 in the official charts on 8th October 1964 spending 15 weeks in the top 40 during the year.
2. Simon & Garfunkel – The Sound Of Silence. Penned originally in 1964 by Simon & Garfunkel this eternal classic is covered by many artists, this is the original author's version.
3. Elvis Presley – Viva Las Vegas. This could be classed as a bit of an anthem nowadays however it is hard to believe that when first released in 1964 it only made it to number 17 in the UK top 40 and 29 in the Billboard top forty!
4. Tony Bennett – Nobody Else But Me. Originally released on his album When Lights are Low recorded and released in 1964.
5. Doris Day – Move Over Darling. From the film with the same name which was release in the UK on 24th February 1964. This reached No. 8 in the top forty on 30th April 1964, spending 14 weeks in the charts.
6. Duane Eddy – Rebel Rouser. This is a classic tune popular now as a line dance tune.
7. Pete Seeger – The Bells Of Rhymney. Recorded live in 1964 an absolute classic folk tune.
8. Bobby Vinton – When I Fall In Love. A re-recording of the classic Nat 'king' Cole hit from 1957, it sums up the genre of love songs from the time.
9. Jim Reeves – I Love You Because. This song reached No. 5 in the official charts on 2nd April 1964 spending 37 weeks in the top 40 in total this year, although a beautiful song it is also marked with sadness as Jim Reeves sadly died this year (31st July 1964) in a plane crash.
10. Aretha Franklin – But Beautiful. It's Aretha in great form, as ever,with a wonderful soulful love song.
11. Mongo Santamaria – El Pussycat. With riffs from Sesame Street, Who's the mad cat lady now then eh!
12. Vic Damone – The Second Time Around. Howmanytimes do you fall in love with your partner in 50 years, more than twice I bet.
13. Percy Faith – Blue On Blue. Lovely Orchestral piece ideal for a bit of ballroom dancing.
14. Maureen Evans – I Love How You Love Me. A great love song this hit the top forty on 27th February 1964 spending 11 weeks on the charts.
15. Roy Orbison – Pretty Paper. Entering the charts on 19th November 1964 this reached number six spending a total of 11 weeks in the top forty.
16. Major Lance – Um Um Um Um Um Um. This reached number five on 26th November 1964 spending a total of 13 weeks in the top forty.
17. Henry Mancini – How Soon. This reached number ten on 22nd October 1964 spending a total of 12 weeks in the top forty.
18. Andy Williams – A Fool Never Learns. A lovely song however this only reached number forty on 20th February 1964 spending 4 weeks in that position.
19. Dave Brubeck – Upstage Rumba. Get your dancing shows on missus it's time for a rumba.
20. Lorne Greene – Ringo. Entering the charts on 17th December 1964 this reached number twenty-two spending a total of 8 weeks in the top forty.
You could complement this with the number one for the week they got married (check what song here http://www.officialcharts.com/archive-chart/_/1/1964/) or if you want a longer playlist then how about a montage of number ones from their anniversary for every year since they wed.