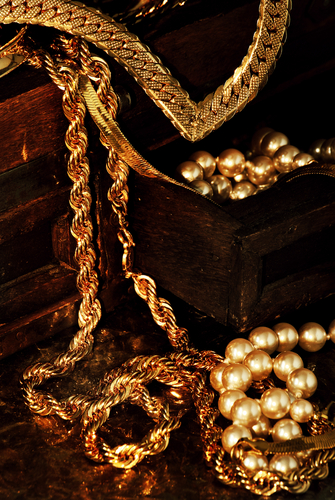 The holding of celebrations on the anniversaries of different epochs of Married Life has become a very pleasant feature of modern times from our research it appears these were popularised in the Victorian era. These celebrations appear to be larger and more lavish than nowadays.
The earlier celebrations for wedding anniversaries bring out lots of happy jollity and kind-heartedness. While those pertaining to longer marriages, when the crumbling milestones remind all of the years that have passed on the travel to the "Sweet By and By" are often made the occasion of a deal of sobered pleasure and deep thankfulness, as reminiscences of many merciful "Providences" offset the inevitable mischances that have beset even the happiest journey through life.
The following is a poem we found for the Golden-Wedding Celebration (Fiftieth Anniversary) from an American book published in 1878
Oh, Happy bridal jubilee!
Oh, sight to make the glad heart leap!
To brief recall the joys of youth,
And sooth the cares of years to sleep.

There's beauty in those silver hairs
Youth's auburn tresses never saw:
They are they crown of honoured years
Spent in obeying Nature's law.

If dimples yield to furrowed cheeks.
They have a glory of their own:
Young Dawn is beautiful indeed,
But by the Evening is outshone.

Celestial ladders seem to rise
Skyward, while sunbeam steps unfold;
And crimson draperies hang around
The pathway burnished with bright gold.

So may the autumn of your days
Surpass the promise of your youth;
And troops of friends, and children's love,
Show Worth still wins applause from Truth. H.L.W.

H.L.W 1878.
The book did not specify who H.L.W was so if anyone can shed some light on whom the poet is please drop us a line.
If you would like some up to date gift ideas for 50th wedding anniversary then please go to our main Golden Wedding page