Anniversary Gifts for Her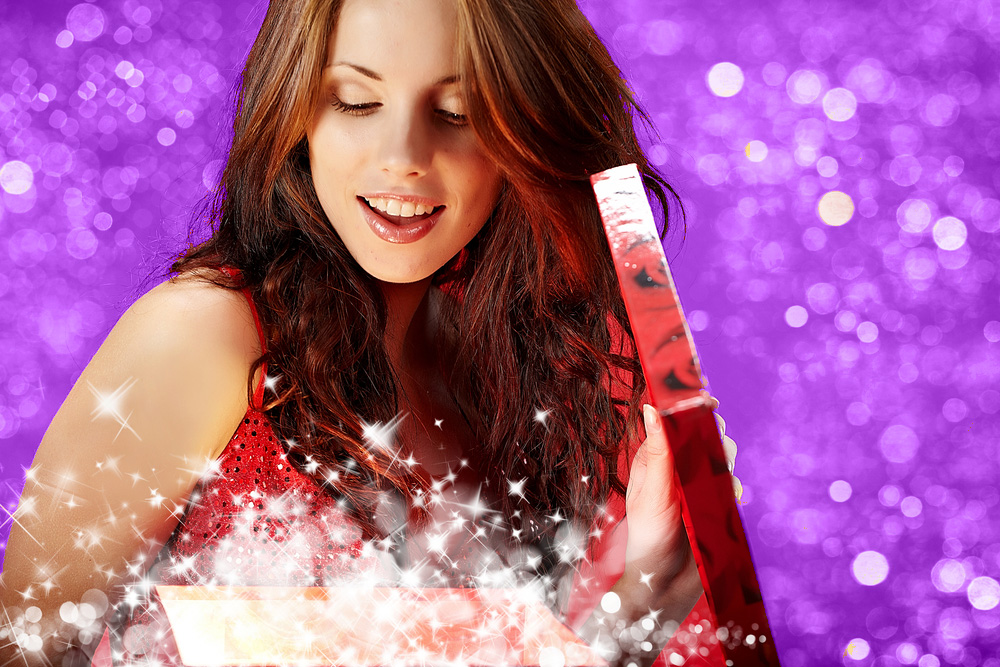 Anniversary gifts symbolise many things. On your upcoming anniversary, she would love to receive the gift that also means you're looking forward to the coming years of being by her side.
If you're struggling for some ideas, we've some gift ideas according to the varying personality traits they may have. No one can pigeon-hole your spouse, hopefully, however they'll inspire you to give her the perfect present she'll surely adore and love you all the more for.
Always Glamorous
If she spends ages getting ready and it shows then you're on a safe bet with the latest make-up or fashions. A quick look in her make-up bag could give you an idea of what she may treasure, is there any product heavily used or even looks like it's used totally, this is likely to be the prized item in her arsenal replenishing this could be the ideal gift.
Jewellery is always a great option for a glamorous lady, check their wardrobe for the colours they prefer and select the jewellery to either match or contrast these, this way she'll be able to enhance her outfits with matching accessories. If their favourite colours match with the anniversary gemstone or birthstone then all the better.
Itchy Feet Traveller
Possibly the best anniversary gift you can give someone who loves to travel is a second honeymoon (or 3rd or 4th!) There are many romantic destinations now available that even a few years ago were not feasible through either limited transport or cost.
If you are ready to take her on a dream holiday, you could get a book that mentions the place to where you're going. Write a note on the first page of the book and slip the tickets or confirmation of your upcoming travel. If you're still saving for your ideal trip and the confirmation is just the start then this can be a great way for you to tell her that you're planning the travel. This will enable her to be more involved in the arrangements; it's often the striving to achieve a goal that makes the whole holiday so much more enjoyable!
Sophisticated
Classy and cultured rather than complex and demanding is our definition of these type of women.
Experiences rather than physical goods are more likely to please her the most, to be honest a well-chosen experience gift is always better received than any physical gift. Being sophisticated you'll have a great choice of experiences to choose; from a night at the theatre to a weekend retreat to recharge the batteries; the choices are endless!
A lovely trick here is to match the experience to the anniversary theme, traditional or the modern list, it does not normally matter as long as the link is there, check out our pages relevant to the anniversary year to see some suggestions.
If you want something physical, and who doesn't 😉 then we'd suggest a pamper gift set or similar, you know the type, full of scented soaps, bath boms, ex-foliating scrub, body lotion and the like. Look for the ones with aromatherapy candles and edible treats so she can snack whilst pampering.
Sentimental Signora
If the women you love is a sentimental type then you can often struggle for an appropriate gift as they are often hard to buy gifts for. In truth the answer is very simple, the gift of your time will be the best gift you can give, be it taking a day off just to be together or going out for a candle-lit meal these are the type of gifts they'll love you for.
If you want to give her a keepsake then a great idea is a message in a bottle where you write your own message, you could use it to re-affirm your marriage vows or just let the poet in you run rife and fill it with prose expressing your love for her.
Gourmet Foodie
If she's a connoisseur of great food you'll probably be used to eating out in fine restaurants, if you don't then there's the answer! If you do, you'll need to go just that bit further to make a truly memorable anniversary. How about a luxury picnic somewhere secluded or a High Tea at somewhere such as The Ritz or other high class hotel, spending an afternoon indulging in a gastronomic menu will surely make her delighted.
Always make it Special
Whatever you choose to do to celebrate you anniversary make an effort to make it special, after all these celebrations could become life's most treasured memories. The added benefit to this of course is you also get to have the enjoyment as well!!
If you're apart on you actual anniversary set a date when you know you'll be together and celebrate then.
So, if you're thinking, 'Maybe I should,' Please do! You simply can't lose. I invite you to view our full list of ideas here, or if you have an idea that you think other people will enjoy let us know we're on Facebook, Google or Twitter and we'd love to hear from you."